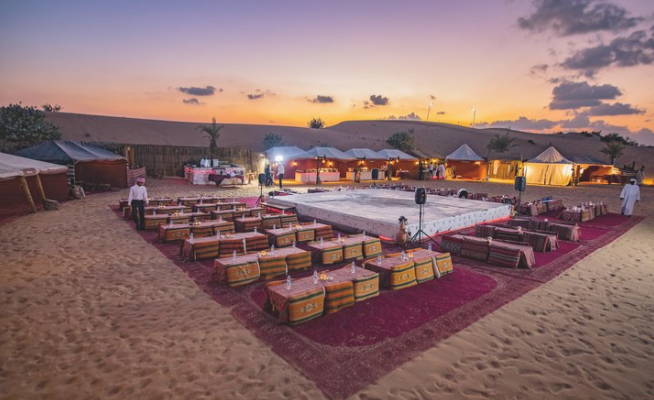 Desert adventures are thrilling experiences that take you to the heart of arid landscapes, offering a unique blend of excitement and serenity. These adventures allow you to explore the vast sand dunes and experience the natural beauty of deserts worldwide.
Join us as we share all the simple details of this extraordinary adventure, perfect for families, friends, or solo travelers. Whether you love excitement or nature, this desert adventure is for everyone. Get ready for an unforgettable evening that you'll treasure forever. So, embrace your adventurous spirit and get ready for a memorable night.
What is Dune Bashing?
Dune bashing is an exhilarating adventure that involves navigating a 4×4 vehicle over the undulating sand dunes of a desert. It's akin to riding a roller coaster on the sandy slopes, offering an adrenaline rush like no other. Skilled drivers take the wheel, expertly maneuvering the vehicle through the ever-changing terrain, which can range from towering dunes to vast sandy expanses.
Dune bashing is not just about speed; it's about the heart-pounding excitement as your vehicle conquers the challenging landscape. The experience promises a blend of adventure and natural beauty, making it a must-try activity for those seeking an adrenaline-fueled desert escapade.
Preparing for Your Dune Bashing Experience
Before embarking on a dune bashing adventure, some essential preparations are in order. Wear comfy, light clothes for the desert's hot weather. Shield yourself from the strong sun with sunscreen, sunglasses, and a wide hat. Don't forget your camera to take pictures of the beautiful desert scenery.
Staying hydrated is crucial, so carry plenty of water. But don't worry too much about gear; your tour operator will provide all the necessary safety equipment, and experienced guides will ensure you're well-prepared for the journey ahead.
The Heart-Pounding Dune Bashing Ride
Once inside the 4×4 vehicle, the adrenaline starts to flow as you set off on your dune bashing adventure. The driver will take you up steep dunes, and you'll feel the thrill of descending down their sandy slopes. The sensation is exhilarating, akin to being on a roller coaster.
As the vehicle expertly navigates the challenging terrain, you'll experience moments of weightlessness and excitement. Holding onto your seat and feeling the vehicle conquer the shifting sands is a unique and thrilling experience that will leave you with a sense of exhilaration and wonder.
Safety First: Tips for a Smooth Adventure
Safety is paramount during dune bashing, and following a few simple tips can ensure a smooth and secure adventure. Make sure your seatbelt is tight, and always follow what the guide says.
You can trust the experienced drivers who know the land and its difficulties very well. They'll ensure you have a thrilling yet safe experience. Don't forget to stay hydrated; the desert can be deceptively hot, so sip water regularly.
From Dunes to Dining: A Scenic Transition
After the heart-pounding excitement of dune bashing, the adventure takes a tranquil turn. You'll be transported to a desert camp, where the atmosphere shifts from adrenaline-fueled excitement to serene contemplation.
The transition from the high-energy ride to the peaceful desert surroundings is a unique aspect of this adventure. It allows you to savor the beauty of the desert and appreciate its calming influence. This shift from action to reflection is a key part of what makes a desert adventure so special.
Savoring Desert Delights: Dinner Details
At the desert camp, a sumptuous dinner awaits, featuring a variety of dishes that reflect the local culture and flavors. You can taste both local and global dishes, offering a variety of flavors to suit different preferences.
Whether you're savoring succulent grilled meats, aromatic rice dishes, or indulging in mouthwatering desserts, the dinner experience promises to be a culinary delight. The tastes and smells will excite your senses, adding to the cultural experience during your desert trip.
Mesmerizing Desert Evening Entertainment
As the sun sets and the stars emerge in the desert sky, evenings in the desert come alive with mesmerizing entertainment. Many desert adventures include captivating performances, such as traditional belly dancing and music that offer a glimpse into the local culture.
Moreover, a few tours let you gaze at the stars, so you can admire the amazing things in the night sky. These evening activities add a layer of enchantment to your desert adventure, creating memories that will stay with you long after the journey is over.
Book Dubai Desert Safari: https://www.desertsafaris-uae.com/
Why Choose Desert Adventure Tours?
Selecting a reputable tour operator is vital when planning a desert adventure. These operators provide experienced guides, safe and well-maintained vehicles, and a thoughtfully organized itinerary. They handle all the planning to make sure your trip goes smoothly and is fun. When you pick a trusted organizer, you can feel confident that they know what they're doing, so you can concentrate on having a great time and making wonderful memories without any concerns or pressure.