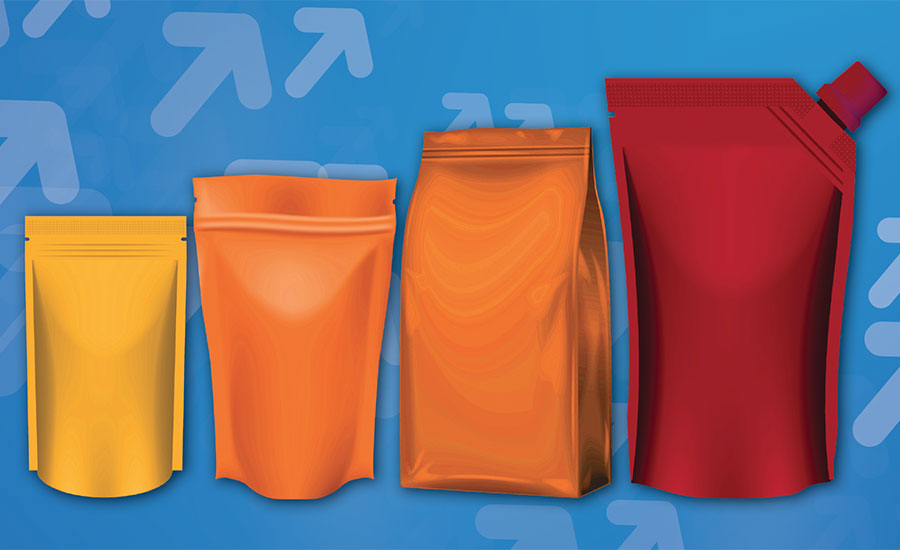 In today's competitive market, businesses are constantly seeking innovative ways to attract and retain customers. One of the most effective strategies that has emerged in recent years is the use of flexible pouch packaging.
Custom flexible pouch packaging not only offers numerous functional benefits for businesses but also appeals to the modern consumer via strong branding. Let's look into how customized flexible pouches can help you get more customers and set your brand apart.
1. Eye-Catching Design Potential
Custom pouch packaging offers a broad canvas for creative and vibrant designs. Unlike traditional packaging methods, pouches can be printed with intricate patterns, bold colors, and unique graphics that capture the attention of potential customers.
When you use a pouch like a flat bottom pouch, you are able to maximize your branding opportunities. A well-designed pouch can make your product stand out on the shelves, drawing the consumer's eye and increasing the likelihood of a purchase.
2. Eco-Friendly Appeal
Modern consumers are more environmentally conscious than ever before. They prefer products that are packaged sustainably and reduce environmental impact.
Flexible pouches cater to this demand as they use less material than rigid containers, resulting in a smaller carbon footprint. By adopting flexible pouch packaging, businesses can market their products as eco-friendly, attracting a larger segment of environmentally-conscious consumers.
3. Enhanced Freshness and Protection
Flexible pouches are designed to provide superior barrier protection against external factors like moisture, light, and oxygen. This ensures that the contents remain fresh for longer, preserving the quality and taste of the product. Customers are more likely to choose products that promise and deliver freshness, making pouch packaging a smart choice for businesses looking to enhance customer satisfaction.
4. Convenience is Key
One of the primary reasons for the rising popularity of flexible pouches is the convenience they offer. Many pouch designs come with resealable zippers, spouts, or tear notches, making them user-friendly. This ease of use enhances the overall consumer experience, encouraging repeat purchases and brand loyalty.
5. Cost-Effective Solution
From a business perspective, flexible pouch packaging can lead to significant cost savings. They are lighter in weight compared to traditional packaging, leading to reduced transportation and storage costs.
Additionally, the production process for pouches is more energy-efficient, further reducing overhead costs. These savings can be passed on to the consumer, making products more competitively priced and attractive.
6. Versatility in Packaging
Flexible pouches are versatile and can be tailored to suit various products, from liquids to solids. Whether you're selling beverages, snacks, cosmetics, or even pet food, there's a pouch design perfect for your needs. This versatility allows businesses to maintain brand consistency across different product lines, reinforcing brand identity and trust.
7. Reduced Waste
Consumers are not just concerned about the environmental impact of the packaging itself but also the waste generated by product residues. Flexible pouches can be designed to ensure maximum product evacuation, minimizing wastage. This efficiency is especially appealing to consumers who want to get the most out of their purchases.
8. Enhanced Brand Perception
Incorporating innovative packaging solutions like flexible pouches can elevate a brand's perception in the eyes of consumers. It showcases the brand as modern, forward-thinking, and responsive to consumer needs and environmental concerns. A positive brand image can significantly influence purchasing decisions, driving sales and growth.
Conclusion
Flexible pouch packaging is more than just a trend; it's a revolutionary approach that offers tangible benefits for both businesses and consumers. By adopting this packaging solution, businesses can enjoy cost savings, enhanced product protection, and a competitive edge in the market. For consumers, flexible pouches promise convenience, freshness, and a reduced environmental impact.
In a world where consumer preferences are rapidly evolving, it's crucial for businesses to stay ahead of the curve. Embracing flexible pouch packaging is a step in the right direction, ensuring that your products not only meet but exceed customer expectations. So, if you're looking to boost sales and attract more customers, it's time to think flexibly about your packaging solutions.