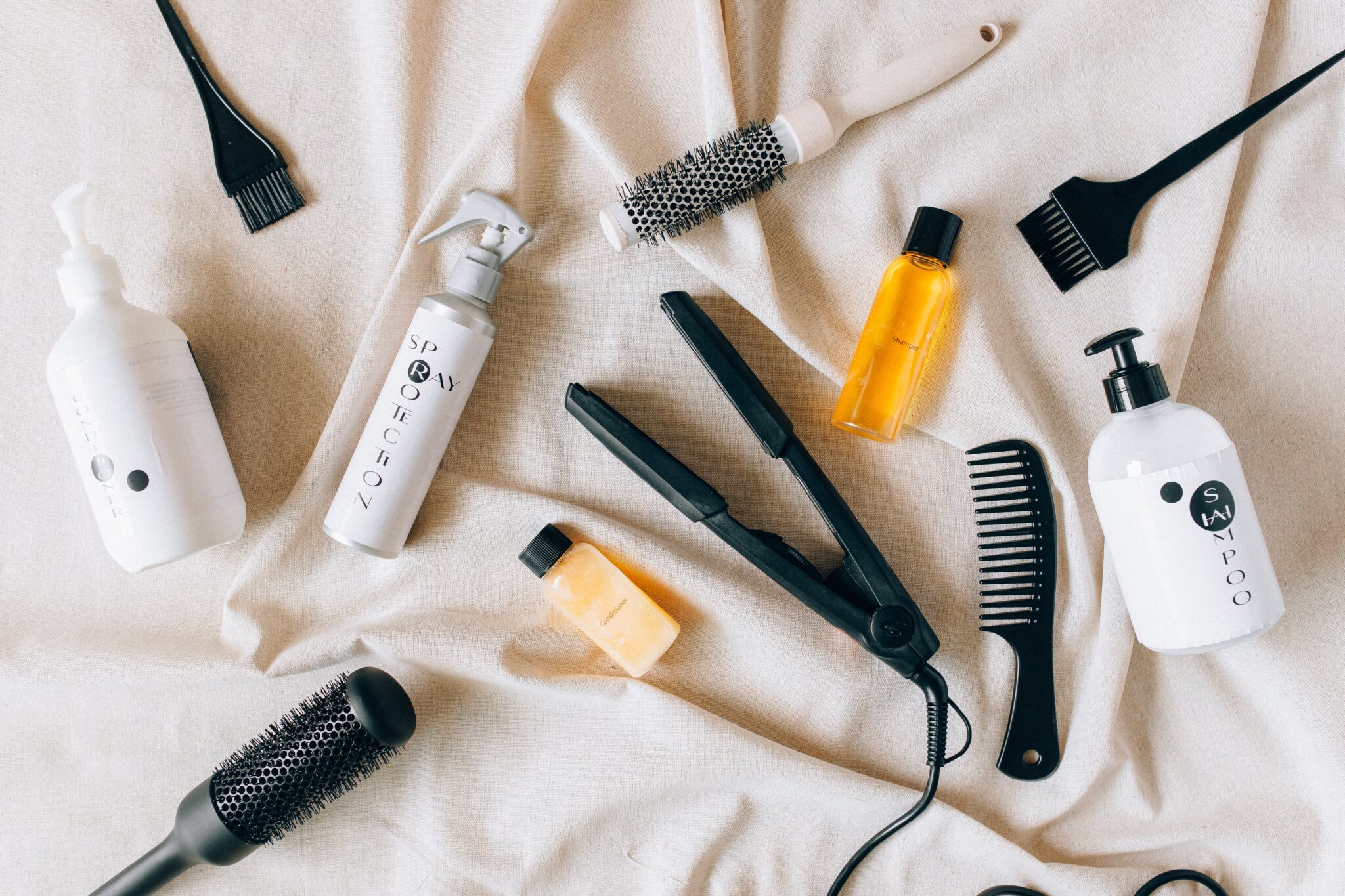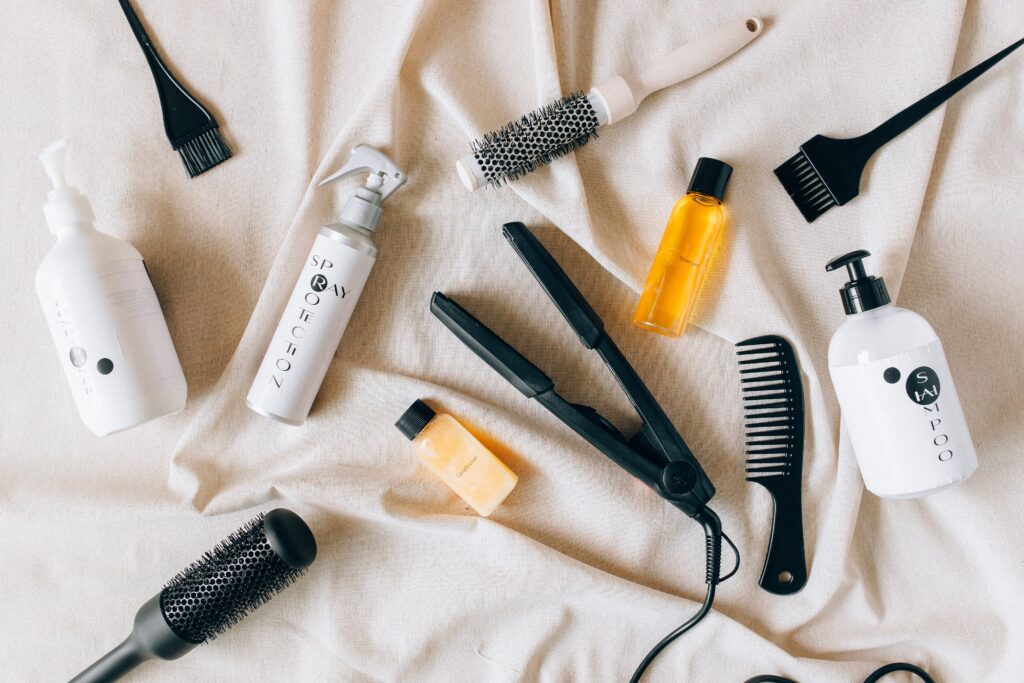 If you're caught in the daily ritual of pampering your hair, it's easy to overlook the potential hazards lurking in your favorite haircare products. Have you ever wondered if your longing for perfect locks might carry an unseen risk? The concern is real, and it's in the bottles lining your bathroom shelf.
As you reach for that familiar hair straightener, the quest for beauty may expose you to health risks. Understanding the science behind your favorite products is crucial for making informed choices.
This article is your way through the world of haircare hazards, uncovering products that could silently contribute to an increased cancer risk.
Formaldehyde-Containing Hair Straighteners
Formaldehyde is known for its preservative qualities and is used in certain hair straighteners to achieve long-lasting results. Recent concerns, however, have surfaced regarding the health implications of exposing hair to formaldehyde.
Hair straighteners containing formaldehyde have faced scrutiny due to reported health risks, with some users attributing adverse effects to prolonged exposure. Notably, a surge in hair straightener lawsuits has emerged due to these exposures.
These lawsuits present some crucial details and potential connections between these products and an increased cancer risk. The hair straightener lawsuit underscores a growing awareness of the potential hazards associated with these seemingly harmless beauty products.
According to TorHoerman Law, individuals who have faced health issues due to formaldehyde-containing hair straighteners are eligible for compensation. Not only formaldehyde but chemicals like parabens, cyclosiloxanes, and bisphenol-A can cause health-related problems as well.
Therefore, these chemicals are also included in the lawsuit. It highlights a collective concern among users who believe these products may have compromised their health.
Coal Tar in Hair Dyes
Another concerning ingredient found in certain haircare products, particularly hair dyes, is coal tar. Hair dyes have become a staple for those looking to refresh their look. It is a byproduct of coal processing and is used in some hair dyes to achieve darker shades.
However, prolonged and repeated exposure to coal tar in hair dyes could pose health risks. It is applicable, especially for those who frequently color their hair.
According to the ACS, scientists have been investigating the possibility of a connection between hair color usage and cancer for several years. To determine if the chemical may be carcinogenic, they employed studies in labs and people.
It demonstrated that many hair color components, such as specific aromatic amines, can induce cancer in laboratory animals. But another discovery was made when the study from people's findings came in.
Individuals who deal with hair colors, such as barbers and hairdressers, have shown a little but steady increase in the risk of bladder cancer. Results on blood-related diseases such as lymphoma and leukemia were mixed, with a part of the research pointing to higher risks. The same finding came into view regarding breast cancer.
This revelation prompts a critical examination of the products you use for aesthetic purposes. It emphasizes the need for consumers to be discerning about the contents of their chosen hair dyes.
As the desire for vibrant and personalized hair colors persists, it becomes imperative to balance these aesthetic preferences. That too with an awareness of potential health implications. Understanding the risks associated with coal tar in hair dyes underscores the importance of informed decision-making in the pursuit of beauty.
Parabens in Haircare Products
Delving into the world of hair care products, a notable concern arises with the prevalence of parabens. These synthetic chemicals, used as preservatives in various cosmetics, including shampoos and conditioners, prevent the growth of bacteria and mold.
Studies have indicated that parabens possess estrogen-mimicking properties, leading to concerns about their role in disrupting hormonal balance.
The March 2021 edition of Applied Sciences published preliminary studies linking paraben disruption to hormone disturbance. It alters several elements of the human body. It includes blood sugar and cholesterol levels, the risk of obesity, immune system and cognitive function, and cognitive performance.
Another research has stated that breast cancer and infertility are two other conditions linked to unbalanced hormone production that parabens may aggravate.
While the link between parabens and malignancies is still under investigation, the accumulation of it in the bodies is a cause for consideration. The challenge lies in the ubiquity of parabens, making it challenging for consumers to entirely avoid their use.
Petroleum-Based Ingredients in Hair Pomades
Hair pomades contain petroleum-derived substances, which can be problematic for both hair health and overall well-being. Petroleum-based ingredients, such as mineral oil and petrolatum, are used for their emollient properties in these styling products. These substances may, however, come with unintended consequences.
Research suggests that certain petroleum-based ingredients can be contaminated with potentially harmful impurities. Prolonged exposure to such contaminants increases the risk of adverse health effects.
Phthalates in Fragranced Hair Products
These synthetic chemicals, used to enhance the scent and flexibility of fragrances, can be found in various haircare items. These range from shampoos to styling products.
Studies have suggested that certain phthalates may disrupt the endocrine system. The concern deepens as these chemicals can be absorbed through the skin and accumulate over time.
Another prominent health issue it creates is breast cancer. A study discovered that the capacity of breast cancer stem cells to generate tumorspheres is enhanced by exposure to phthalates, states Science Direct.
The issue is that a small percentage of cancerous cells in heterogeneous tumors is enough and can initiate tumors. These cells may develop chemoresistance, and they can promote the advancement of such malignancies.
Therefore, consumers seeking aromatic and effective hair products should be vigilant about the ingredients, opting for phthalate-free alternatives when possible.
Hydrogen Peroxide in Hair Bleaching Products
Hydrogen Peroxide is widely used in bleaching products for its ability to lighten hair color. But it can have unintended consequences on both hair and health. The chemical works by breaking down the natural pigment in the hair. But in doing so, it can also cause damage to the hair shaft and make it more susceptible to breakage.
Beyond the potential harm to hair, hydrogen peroxide raises health questions. Studies suggest a possible link between prolonged exposure to hydrogen peroxide and an increased risk of certain cancers. The concern is particularly relevant for those who regularly use bleaching products. This is because repeated exposure may contribute to the accumulation of the chemical in the body.
Consumer Tips for Safer Haircare Choices
Scrutinize product labels for potentially harmful ingredients like formaldehyde, coal tar, parabens, and petroleum-based substances. Opting for products that proudly declare their absence of these chemicals can significantly reduce potential risks.
Prioritize natural and organic alternatives, as they often contain fewer synthetic additives. When it comes to fragranced products, choose those labeled as phthalate-free to mitigate potential endocrine system disruptions. For hair bleaching, be mindful of the frequency of use and consider consulting with a professional stylist to explore less damaging alternatives.
Conclusion
While scientific links are still unfolding, being mindful of ingredients can help make informed choices. Opt for products without these potential hazards, explore natural alternatives, and stay attuned to emerging research. Balancing aesthetic desires with health-conscious decisions ensures your haircare routines contribute to beauty without compromising long-term well-being.