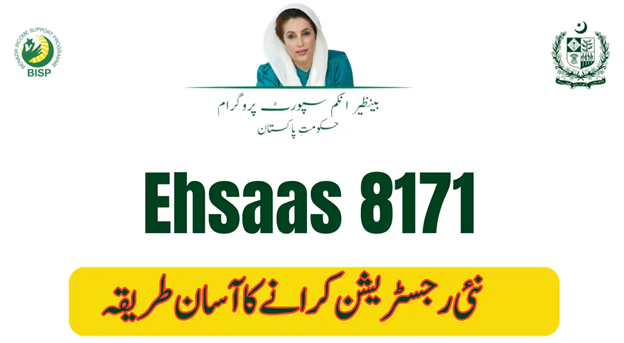 The government of Pakistan initiated the Ehsas Kafalat program in March 2019 to provide monetary and non-monetary support to nationals. Lately, people had to suffer a little to register, standing in long lines during summer was head tic; however, it has been made much more straightforward now. In this article, we have mentioned how one can easily register oneself for Ehsaas 8171.
Recently, the government announced relief for all women from collecting righteous amounts; now, government workers are appointed in different areas to visit and collect information from women, whether they have received the funds or not. The authorities keep records of all deserving women, including widows, orphans, and more, whose financial needs are unmet.
Once the cycle has been completed and the amount has been distributed and collected, visit the Ehsas website to resubmit the form for the next distribution.
A little About the Ehsaas program?
Ehsaas program is the government initiated project, started during the government of former prime minister Imran Khan in 2019 for the welfare of Pakistan youth. This project aimed to end poverty and the dependency of nationals upon each other and distribute a sense of independence to everyone.
It helps women in need, students who recently graduated, lower in groups, and orphans.
How can I register for the 8171 Ehsaas program:
Registering for the Ehsaas program is much simple than it was before. Now, instead of standing in a long line just for Registration, women can go online on the Ehsaas web portal or send an SMS at 8171 with the required details. The option for visiting the nearest center is still available; if applicants are not comfortable registering online, they can see the closest center and register themselves.
For Registration online, follow the few easy steps mentioned below:
Go to Ehsaas's official page
Go to the "status"
An application form will be provided; fill it with the required information.
The application process is displayed on the screen follow it
In some time you will receive response and if rejected, the reason will also be presented on your screen.
For checking status of your Registration, send a SMS containing the CNIC number at "8171", and you will be informed within a few minutes.
After Registration, visit the nearest Ehsaas Center for Biometrics. Biometrics is necessary for applicants who wish to receive payment online.
If you are facing issues regarding Registration, contact Ehsaas hotline at 0800-26477 or Benazir income support at the same number.
Complaints can be launched at the Ehsaas web portal if the issue is not resolved and the hotline is not helpful.
Eligible:
The eligibility criteria have become more lenient since the merger with Benazir income support. The eligible age for the Ehsaas program is 18 or above, and the applicant must lack the necessary funds required for everyday life, whether unemployed (due to lack of opportunity/ not by choice) or a family head with low income.
Students with a will for study but lack of capital are also eligible for this program.
CNIC Check:
All registrations are open online now; applicants can register via online web portal or through SMS at 8171. But before Registration, the applicant should be sure about their eligibility—type in your CNIC on the online box to check in eligibility and send it to 8171.
In order to check the eligibility of CNIC:
Send CNIC number to 8171
After a while, you will receive a message about eligibility
Visit the nearest Ehsaas center to receive the amount
If you want a bank transfer, submit details of your bank account, or else cash will be handed out.
Income support announces and selects the distribution date. It is verified through NA FAYAZ slip after NSPR survey
Ehsaas program X Benazir income support program:
Recently, the Benazir income support and the Ehsaas program have collaborated to become one of the most prominent supports In Pakistan. This way, more citizens can take advantage of it as more funds will be available for distribution. All registered earlier will have to be re-registered by the NSER registration center.
Many who weren't eligible are now in luck. Since the terms have been reinstated after collaboration, people who were in need but unable to register currently can.
Woman in need:
Deserving women all around Pakistan are given 2000 Rs monthly cash. The government is spreading awareness around Pakistani women who were unaware of it; can learn about it through the NSER Survey.
Widows have to submit the death certificate of their deceased husband to NADRA and fill out the Ehsaas program form on the website to avail this option. Within 2 to 3 days, the applicant will receive a confirmation text and can now collect up to 7000 RS from the nearest Ehsaas center.
Medical facility:
Medical facilities are also provided via Ehsaas 8171. During covid 19, around 7 million patients were receiving medical care under this program. Recently, the number has risen to 10 million.
Tracking details Ehsaas program 8171:
Now, applicants can track the Ehsaas program eligibility by using code 8171. If you have registered for the Ehsaas program but have not received confirmation in over 2 to 3 days, can check their Registration online on the Ehsaas web portal status.
Visit Ehsaas web portal 8171
Go to check the status
Input your phone number and CNIC number
How to withdraw the amount from an ATM?
While many recipients prefer receiving funds in hand, many prefer an online or bank transfer. For those of you, who prefer bank transfer, here is how you can withdraw the amount from the bank:
The amount can be drawn from the HBL ATM
Press the green button on the machine
Select the language you are comfortable with
Press the Ehsaas program button
Type in 13-digit CNIC
Scan your thumb or finger for biometric verification. Use the same finger registered when applying for the Ehsaas program.
Cash will be withdrawn.
Ehsaas program includes:
Ehsaas Kafalat Program: for benefit women only. The applicant is provided with 2000 RS cash or transfer monthly.
Ehsaas Amdan Program: open for 25000 unemployed citizens. It provides more than just monetary assist but also includes other services that can help start a small business and help avoid teething problems. The capital is sufficient to start a business that can at least earn enough to provide for oneself and family. These assets include livestock, goats, buffalo, and cow or agricultural help. It is initiated in 23 districts and 375 union councils.
Wazir-E-Azam Relief Package: initiated by formers prime minister Shahbaz Sharif, offering distribution of atta, ghee, and cheeni at a discount.
Ehsaas Nashonuma Program: initiatedfor children with malnutrition and for new mothers only. Food is distributed among eligible applicants.
Ehsaas Loan program: for students only. Provides interest free loans from 20000 to 75000RS—this program is initiated by NPGI (National Poverty Graduation Initiative) to students for four years.
Ehsaas Scholarship for students: initiatedfor students of and above 18 only. It offers scholarships. Student younger than required age can apply through B-form.
Ehsaas Langar Program: initiated for labor with lower income who struggle to afford food regularly.
Ehsaas Emergency Cash program: initiated to provides emergency cash up to 14000 RS for any reason.
Ehsaas Koi bhooka Nahi soya: initiated and is functional in 7 cities, including Lahore, Multan, Islamabad, Faisalabad, Rawalpindi, Peshawar, and Gujranwala. Up to 40 food trucks roam around the city distributing free food.
Ehsaas Panahgah Program: functional for hard working labor seeking for shelter. 25 Panahgah are available, creating a local area for labor to rest in.
Ehsaas Disable person: for disabled community only, it offers them with subsidized facilities.
Ehsaas tahafuz program: initiatedfor people who require treatment after intense accidents, but lack in funds.
Dar-ul-Pass Ehsaas Program: operational for orphans only. It started with the help of Roshni Homes Trust, providing orphans with food, medical treatments, boarding, lodging, and education facilities.
Ehsaas Student Program: initiated for student from age 4 till 22 to provide scholar ships for basic education.
Ehsaas Rashaan Program: provides 40% discount on kitchen supplies and additional 2000 RS
Mazdoor Ka Ehsaas: Program Is for the Mazdoor/ labor community. Offering 14000 Rs to mazdoors who are employed for under 25000Rs wage.
Ehsaas Rehri Baan program is only functional in the capital city of Islamabad, to train street hawkers and provide them with other facilities.
WEC: provides women with education only related to generating income.
Ehsaas Masawaat program: The applicant is given 3000 Rs to 2000Rs monthly. Is only applicable for citizens 18 to 40 years old.
Ehsaas Ba–Himmat Buzurg Program: for citizens with a minimum age of 65 receive 2,000Rs monthly.
Ehsaas Humqadam Program: registered applicant person receives 2000rs cash monthly
Ehsaas Sila-e-fun program: provides 5000RS cash to elders, above 50 years unconditionally.
Ehsaas Zewar-E-Taleem: provides 1000 Rs cash to female students only with 80% attendance or above. This program is functional in Rajanpur, Bahawalpur, Muzaffargarh, Chinniot, Vehari, Jhang, Kasur, Okara, Layyah, Lodhran, Bhakkar, Khanewal, Pakpattan, Bahawalnagar, Rahim Yar Khan, and DG Khan.
Ehsaas Nayee Zindagi program offers teaching and training to female victims of acid attacks. And help them recover physically and mentally.
Ehsaas Rashan Riayat program: provides 40% discount on cooking items and other utilities.
Conclusion:
Former prime minister Imran Khan initiated the Ehsaas program and was later joined by Benazir income support to enhance their reach. The program aimed and have been successful in helping lower-income and no-income group in Pakistan. If you are suffering for low funds despite continues effort, or are in need register your self for Ehsaas 8171 program.