I am sharing here the latest Mobilink Jazz Daily SMS Package for you. The most popular network in Pakistan is Mobilink surly because of its all SMS packages that inspire me for quantity and these SMS packages at affordable prices. Sending an SMS message to my friend is my daily routine and I have never had to pay more for a tiny SMS Jazz Daily SMS Packages Price & Code in 2023.
So I love to subscribe to and 24 hours SMS packages of Mobilink Jazz for me to avoid over-cost for this service. jazz has different SMS Bundles. SMS is the best way to connect with friends and family. If the user is not frequent in-text sending then Jazz one day SMS Package Plans is best for him.
Jazz Daily SMS Packages Price & Code in 2023
Jazz daily super plus SMS bundle available at a reasonable price just Rs.28. Super Plus Daily SMS bundle easy to subscribe the activation code *558# and unsubscribe code *558*2#. In this bundle you will get 500 SMS, 500MBs, and 500 Jazz minutes Jazz Daily SMS Packages Price & Code in 2023.
Jazz Daily SMS Packages Details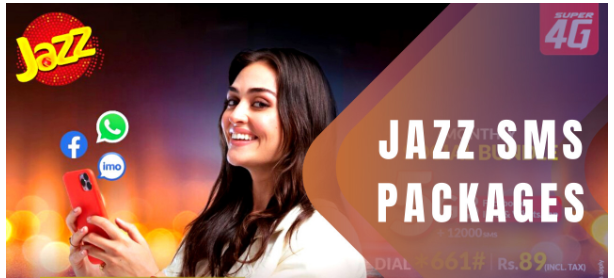 Starting with the Jazz daily SMS package because most people like to use one day package and it has low price and more SMS.  It has four SMS packages on a daily basis. Based on your needs, you can choose whichever suits you. These packages also have internet MBs to access WhatsApp, so here comes the Jazz 1 day package or Jazz WhatsApp packages, and also have other networks free minutes.
Package Name
Package Details
Activation Code
Check Code
Jazz Daily Sms Package
SMS: 1200
Validity: 1 Day
Charges: 4.77 PKR

*101*1*01#
101*3*01#
Jazz Daily SMS Plus Package
SMS: 150
Validity: 1 Day
Charges: 2.38 PKR

*106*1#
*106*2#
Daily SMS and Whatsapp bundle
SMS: 1800
WhatsApp data: 10 MB
Validity: 1 Day
Charges: 7.2 PKR

*334#
-
SUPER PLUS
SMS: 500
Data: 500 MB
Jazz Minutes: 500
Other Network Minutes : 5
Validity: 1 Day
Charges: Rs.28 (Incl. Tax)

*558#
*558*2#
DAILY DAY BUNDLE
SMS: 300
Data: 20 MB
Jazz Minutes: 300
Validity: Same Day Midnight
Charges: Rs14 (Incl. Tax)
Recharge Required : Rs.16

*340#
*340*2
Also Read:
If you want get Jazz Daily SMS Packages its very easy just read this article and get the complete detail for the Jazz Daily SMS Packages Price & Code in 2023. Pakistan Mobile network jazz provide many SMS packages with the affordable price and charges for the all jazz sim users. I will provide all SMS, Call and internet packages in this site.