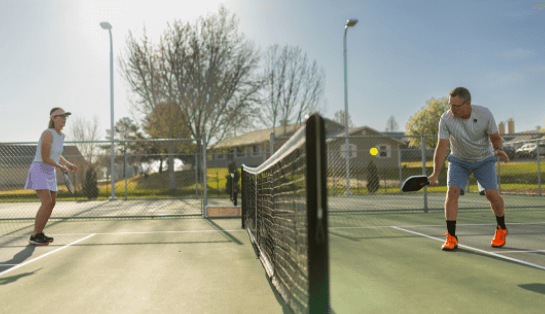 Introduction
In the world of sports, there is a constant quest for the next big thing, the next sensation that captures the hearts and minds of enthusiasts. For many, that sensation has come in the form of pickleball, a sport that's been quietly, yet steadily, gaining a massive following. With its unique blend of tennis, ping pong, and badminton, pickleball has taken the world by storm, becoming a favorite pastime for people of all ages. In this article, we'll explore the pickleball experience, from the origins of the game to the reasons behind its rapid rise in popularity.
The Origins of Pickleball
Pickleball's roots can be traced back to the summer of 1965 when it was invented by three friends: Joel Pritchard, Bill Bell, and Barney McCallum. The story goes that their families were looking for a new game to play together. They cobbled together some old table tennis paddles and a perforated plastic ball, and set up a makeshift court in Pritchard's backyard on Bainbridge Island, Washington. The game quickly caught on and soon gained popularity in the local community.
The name "pickleball" is often attributed to a dog named Pickles, who was known for chasing after the errant balls during the early days of the game. While the dog's role in naming the sport remains a subject of debate, the name itself has stuck and become an integral part of the sport's identity.
The Basics of Pickleball
Pickleball is a paddle sport played on a rectangular court, typically measuring 20 feet by 44 feet. The court is divided into two halves, with a seven-foot-high net running down the center. The game can be played in singles or doubles, but it is more commonly played in doubles, which adds an element of teamwork to the sport.
Players use solid paddles to hit a perforated plastic ball over the net, with the objective of scoring points by making the ball land in the opponent's court. The scoring system is straightforward, with points being awarded only to the serving side, and the first team to reach 11 points with a 2-point lead wins the game.
One of the key attractions of pickleball is its accessibility. The smaller court size and the slower-paced ball make it an ideal sport for players of all ages and skill levels. The game is easy to learn and provides an excellent way for people to stay active and engaged in physical activity.
The Rapid Rise in Popularity
Pickleball's rapid rise in popularity can be attributed to several factors. First and foremost, it's a sport that caters to a wide demographic. Whether you're a retiree looking for a social and active pastime or a young athlete seeking a new competitive outlet, pickleball has something to offer. The sport's adaptability makes it a favorite among families, friends, and communities.
Furthermore, the sport has a relatively low barrier to entry. The equipment is affordable, the rules are simple, and it doesn't require a massive playing area. This accessibility has allowed communities to set up pickleball courts in public parks, schools, and even in retirement communities, further promoting its growth.
Another reason for its popularity is its social aspect. Pickleball is not just about competition; it's about camaraderie. The game encourages interaction and fosters a sense of community. Many players find themselves forging new friendships on the court, and pickleball tournaments often feature a vibrant social scene alongside the competition.
The Health Benefits of Pickleball
Beyond the social and recreational aspects, pickleball offers significant health benefits. It provides an excellent cardiovascular workout, helping to improve heart health and endurance. The quick movements and agility required in pickleball also promote balance, coordination, and flexibility. It's a sport that can help people of all ages stay active and healthy.
In addition to physical benefits, pickleball is known to have positive effects on mental well-being. Engaging in physical activity releases endorphins, which can reduce stress and boost mood. The social interaction that comes with playing pickleball also combats loneliness and enhances mental health.
The Competitive Edge
While pickleball is often seen as a casual, fun sport, it has a competitive side that has attracted serious athletes. Tournaments and leagues have sprung up around the world, offering a platform for those looking to test their skills against top-tier competitors. The sport is governed by the USA Pickleball Association (USAPA), which oversees the rules and regulations, ensuring a fair and competitive environment.
Pickleball has also found its way into the Senior Games and local, regional, and national tournaments. These events have gained substantial attention and offer players of all ages and skill levels the opportunity to compete at various levels, from beginner to professional.
The Future of Pickleball
Pickleball's future looks bright. It has transcended its status as a niche pastime to become a global sensation. Many schools and recreational facilities are now incorporating pickleball into their programs, introducing the sport to a new generation. This trend is likely to continue, driving further growth in the sport's popularity.
As the sport evolves, we can expect improvements in equipment and more sophisticated playing techniques to emerge. The professional circuit is also likely to expand, with an increase in the number of tournaments and higher prize money, attracting elite athletes.
Conclusion
Pickleball is not just a sport; it's a phenomenon that has captivated the hearts and minds of people worldwide. Its origins may be humble, but its impact on communities, families, and individuals is immeasurable. The sport's unique blend of accessibility, health benefits, social interaction, and competitive spirit has made it a favorite pastime for all ages.
Whether you're a seasoned pickleball pro or a curious beginner, there's a place for you on the court. The future of pickleball promises continued growth and excitement, as it continues to win over the world one court at a time. So, grab a paddle, step onto the court, and join the pickleball revolution. You might just find yourself falling in love with the game, just like millions of others have.