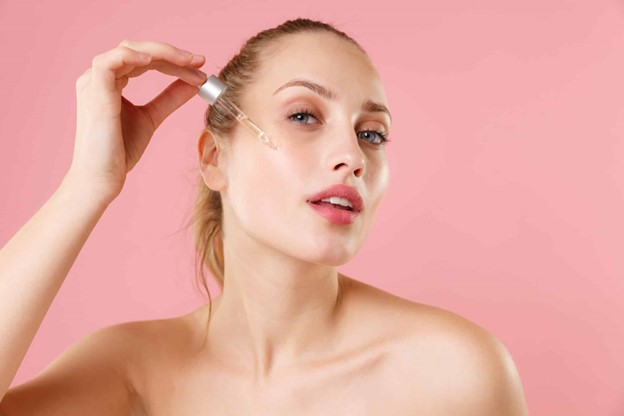 The pursuit of youthful and radiant skin is a timeless quest. Countless products and treatments promise to turn back the clock, but one skincare superstar has gained immense popularity for its ability to deliver on these promises: Vitamin C serum. This remarkable elixir, often paired with ingredients like hyaluronic acid, has become a staple in the beauty routines of individuals seeking to rejuvenate their skin. In this comprehensive guide, we will explore the science behind Vitamin C serum, its remarkable benefits, and why it has become a cherished secret for achieving that coveted youthful glow.
The Science behind Vitamin C
Before delving into the extraordinary benefits of Vitamin C serum for your skin, let's understand the science that makes it such a potent skincare ally. Vitamin C, also known as ascorbic acid, is a water-soluble vitamin that plays a crucial role in maintaining overall health. When it comes to skincare, Vitamin C takes on a superhero role, primarily due to its remarkable antioxidant properties.
1. Antioxidant Protection:
Imagine Vitamin C as a shield against the forces of skin aging. Free radicals, those pesky molecules that wreak havoc on our skin cells, are generated through factors like UV exposure, pollution, and even the natural aging process. These free radicals can lead to oxidative stress, causing collagen breakdown, fine lines, wrinkles, and age spots. Vitamin C swoops in as a potent antioxidant, neutralizing these free radicals and preventing the damage they cause. By doing so, it helps maintain the integrity of your skin and prevents premature aging.
2. Collagen Production:
Collagen is the structural protein responsible for skin's firmness and elasticity. As we age, collagen production naturally declines, leading to sagging skin and the formation of wrinkles. Here's where Vitamin C steps in as a skin savior. It is an essential cofactor for the enzymes involved in collagen synthesis. By applying a Vitamin C serum topically, you provide your skin with the necessary ingredient to stimulate collagen production. This boost in collagen helps your skin stay firm, supple, and youthful.
3. Brightening Effect:
Who doesn't want a brighter complexion with a natural glow? Vitamin C has skin-brightening properties that can even out your skin tone and reduce the appearance of dark spots and pigmentation. Uneven skin tone can be a telltale sign of aging, but with consistent use of Vitamin C serum, you can achieve a more radiant and youthful complexion.
4. Hydration with Hyaluronic Acid:
While Vitamin C does wonders on its own, when combined with hyaluronic acid in a serum, it becomes a powerhouse duo. Hyaluronic acid is renowned for its ability to hold an impressive amount of water – up to 1,000 times its weight. When it's paired with Vitamin C, you get the best of both worlds. Vitamin C addresses pigmentation and brightness, while hyaluronic acid delivers deep hydration, leaving your skin plump, moisturized, and ready to glow.
5. Protection against UV Damage:
Vitamin C is not a substitute for sunscreen, but it can certainly complement your sun protection routine. It works synergistically with sunscreen to provide extra defense against the harmful effects of UV rays. When applied in the morning, Vitamin C serum can boost the effectiveness of your sunscreen, reducing the damage caused by UV exposure. This added layer of protection is especially valuable in the fight against premature aging and skin damage.
6. Reduction of Inflammation:
Beyond its antioxidant properties, Vitamin C also possesses anti-inflammatory characteristics. This makes it particularly beneficial for individuals with sensitive or acne-prone skin. It can help soothe irritation, reduce redness, and promote an overall calmer complexion. By addressing inflammation, Vitamin C contributes to a more youthful and healthier appearance.
Choosing the Right Vitamin C Serum
With the plethora of skincare products flooding the market, selecting the right Vitamin C serum can be overwhelming. Here are some key factors to consider when choosing the perfect serum for your skincare routine:
Vitamin C Concentration: The effectiveness of a Vitamin C serum depends on its concentration. Look for serums that contain at least 10-20% L-ascorbic acid, the most bioavailable form of Vitamin C. Higher concentrations may be suitable for experienced users, but they may also be more irritating to sensitive skin.
PH Level: Vitamin C is most effective at a pH level of around 3.5. Products with a pH too high or too low may not deliver the desired results. Check the product's pH level if available.
Packaging: Vitamin C is sensitive to light and air, which can cause it to degrade over time. Choose serums that come in opaque or dark-colored bottles with airtight pumps or droppers to ensure the product's stability.
Additional Ingredients: Many Vitamin C serums come with complementary ingredients like Vitamin E, ferulic acid, or botanical extracts. These ingredients can enhance the serum's effectiveness and provide additional skincare benefits.
Skin Type: Consider your skin type when selecting a Vitamin C serum. Some serums are formulated for specific skin types, such as oily, dry, or sensitive skin. Choose one that suits your skin's needs.
Incorporating Vitamin C Serum into Your Routine
Now that you understand the incredible benefits of Vitamin C serum, let's talk about how to incorporate it into your daily skincare routine for maximum effectiveness.
Morning Routine:
Cleanser: Start with a gentle cleanser to remove any impurities or oils from your skin.
Toner: If you use a toner, apply it to balance your skin's pH levels.
Vitamin C Serum: After cleansing and toning, apply a few drops of your chosen Vitamin C serum to your face and neck. Gently pat it into your skin, allowing it to absorb fully.
Sunscreen: Follow up with a broad-spectrum sunscreen with SPF 30 or higher. Vitamin C enhances the effectiveness of sunscreen, so this step is crucial for protecting your skin from UV damage.
Evening Routine:
Cleanser: Use your cleanser to remove makeup, dirt, and pollutants from your skin.
Toner: If you use a toner, apply it to prepare your skin for the next steps.
Treatment Serums: If you have other treatment serums in your routine, such as those for acne or anti-aging, apply them before your Vitamin C serum.
Vitamin C Serum: Apply your Vitamin C serum as you did in the morning, ensuring it is fully absorbed.
Moisturizer: Follow up with your preferred moisturizer to lock in the serum and provide extra hydration.
Night Cream: If you use a night cream or overnight mask, apply it to seal in moisture and nourish your skin while you sleep.
Consistency is Key
To reap the full benefits of Vitamin C serum, consistency is essential. Incorporate it into your skincare routine daily, both in the morning and evening, for the best results. It may take several weeks or even a few months to see significant improvements in your skin's texture, tone, and radiance. Patience