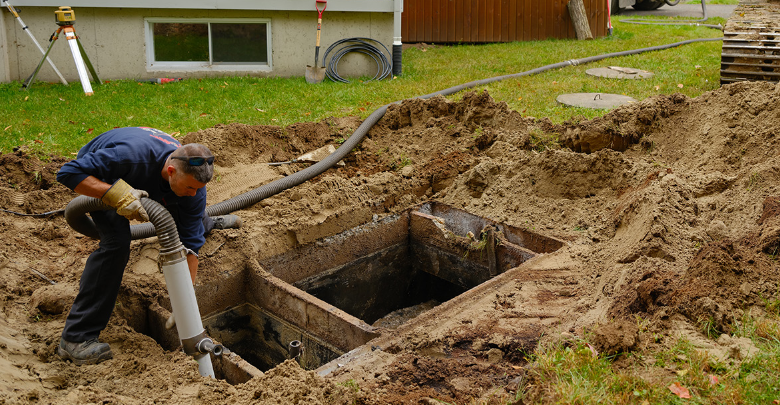 All the waste that goes down your drains ends up in your septic system. The system must be maintained properly to work well.
Having your septic tank pumped regularly keeps scum and gunk layers from growing too high within the septic system. This also helps the process that treats wastewater to occur.
Water Contamination
The septic tank provides the first step in wastewater treatment. It allows solids to separate so the wastewater can be properly disposed of in the drain field. Heavier solids settle to the bottom forming sludge, while lighter solids such as greases and oils float to the top forming a scum blanket. If these solids are not filtered through the tank, they may move out of the septic system with the effluent and clog the drainfield or other components in the septic system.
The contaminated effluent can contaminate groundwater and surface water, and pose a health threat to humans. It can introduce pathogens such as protozoans that cause diarrhea and parasitic worms that live in untreated sewage. Other contaminants, such as nitrates and coliform bacteria, can contaminate drinking water.
To prevent septic system contamination, homeowners should do the following: Limit use of a garbage disposal. Heavy use can generate more solids that require a tank to be pumped more often. Avoid flushing cigarette butts, cotton swabs, feminine products and paper towels that can clog drains and increase scum blanket thickness. Dispose of these items with other solid wastes in the trash. Do not pour paints, thinners, solvents, chemicals, disinfectants and other toxic substances down drains, which can kill the bacteria that help to purify sewage and contaminate groundwater.
Health Issues
The most obvious symptom of a failing septic system is raw sewage backing up into drains in your home. This smelly, hazardous wastewater poses a health risk and can cause extensive damage to your home. The best way to protect your home from a septic tank failure is to have it inspected regularly by a professional. Regular inspections ensure that your septic tank is pumped often enough and can spot early signs of system problems such as gurgling or foul odors.
The septic tank acts as the first step in treating the wastewater from your home. Solid waste is deposited into the tank where heavier solids settle to form a sludge layer while lighter greases and oils float to the top of the scum layer. Anaerobic bacteria that thrive in an oxygen-free environment in the septic tank reduce these solids and floatables, minimizing the sludge and scum volume in the tank. This process is not perfect and the septic tank must be pumped to remove the remaining sludge and scum from the tank.
Chemicals such as household cleaners and septic tank cleaning products can disrupt the bacteria levels in your septic tank, causing problems with the efficiency of your septic tank and allowing sludge and scum to build up faster than they should. The best way to avoid these problems is to use earth-friendly septic tank cleaners that will break down organic material without harming the bacteria in your septic tank. You should also avoid parking vehicles or putting heavy weight above your septic tank and drain field. This can cause the soil to shift and place unnecessary stress on the tank, pipes and absorption field.
Damage to Your Home
Your home's septic system works hard to remove harmful waste from your house, but deferred maintenance can cause the system to fail. If you suspect your septic tank is not functioning properly, there are three signs to look out for.
If your toilets and drains are slow to flush, or you hear gurgling noises, this could be a sign that the septic system is overflowing or clogged. These problems can lead to sewage backups into the house and cause severe damage.
Another sign of septic tank issues is a strong odor near the septic tank or drain field area. This can be a sign that the septic tank is leaking or that the inlet baffle to the tank is clogged. If a septic tank has an inlet baffle, it is important to maintain its condition to ensure proper wastewater treatment.
Septic tank and drain field problems can be prevented with consistent maintenance. Avoid dumping household waste into the system, including cigarette butts and cleaning products. These substances will fill the septic tank faster and promote scum blanket thickness. Install water-efficient showers, faucets and toilets to prevent overusing the system and overwhelming it. Schedule regular septic tank pumping and inspections to detect problems before they get worse. Homeowners coverage typically covers septic tank and drain field repair and replacement, but check with your insurance agent to be sure.
Call Mr. Rooter
When people think of plumbing maintenance, they rarely consider the septic tank. However, it's vital to schedule pumping services to extend the life of this part of the home. If the septic system fails, sewage will leak into the groundwater and create dangerous health issues for your family, pets and plants. A septic tank that is overflowing will also leave a terrible smell throughout the property, which can cause significant problems for your neighbors as well.
The best way to avoid these problems is by having septic tank maintenance performed every five years. A professional septic tank service will check the condition of the baffles or tees in your tank, the walls for cracks, and the drainfield for signs of failure. If you notice any of these signs, call Mr. Rooter of Syracuse for septic tank repair and installation.
You can also help protect your septic system by having less water flowing into it. Take shorter showers and baths, and limit how long you wash dishes or use the laundry machine. You can also install low-flow toilets, which are designed to conserve water without sacrificing functionality.