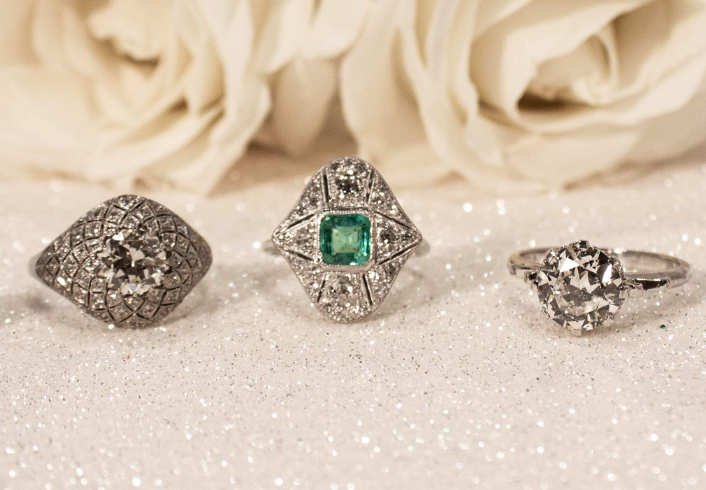 The craftsmanship and details that define an antique ring make it a timeless, one-of-a-kind piece. Plus, choosing a vintage or antique ring means reducing the amount of new jewelry being produced—which helps our already overtaxed planet!
To begin your antique ring journey, identify the design style you like most. This will help narrow your search for the perfect vintage ring for you.
Victorian Style
The Victorian era, named after Queen Victoria, marked an era of power and influence in Britain. Victoria herself was a trendsetter, and her jewelry reflected her passion for beauty. Victorian rings are full of romantic symbolism, from acrostic ring designs to gemstones spelling out a love note.
Halos and clusters of diamonds dominated ring styles in this era, often crafted from yellow or rose gold. Floral and lacey openwork designs are also popular.
Art Deco
A visual departure from the curvilinear flourishes of previous jewelry eras, Deco rings embrace straight lines and geometric shapes. Chevrons, triangles, squares, and baguettes are all favored, especially when combined with rich gemstones like sapphires and rubies.
Deco also brought back the popularity of the bezel setting, a thin metal ring that frames step-cut diamonds for eye-catching brilliance. Ornate hand-engraved detailing called milgrain is also characteristic of this era, adding a touch of antique glamour.
This opulent style reached its pinnacle in the 1920s, before being brought down by the Depression and World War II. But its bold geometry, look-at-me patterns, and exotic decorative motifs remain an inspiration even into the 21st century.
Edwardian
During this time period, rings showcased ultra-feminine lace work. It was also during this era that diamonds started to become more widely used in engagement rings.
Authentic vintage Edwardian rings are difficult to find today, but this option from Clean Origin provides a similar look with its octagonal halo and milgrain detail. Its center stone is also surrounded by sapphires, adding to its flowery aesthetic.
If you're looking for something with a true antique feel, this Old European cut ring from Erstwhile Jewelry is another great option. It features a gorgeous rounded table and larger facets that give it more sparkle than many modern cuts.
Art Nouveau
The Art Nouveau (also known as the Jugendstil in Germany and Austria, and Nouveau Réalisme in France) style of Antique rings has a soft, esoteric beauty with curved lines and floral motifs. This era marks a break with the rigid geometric designs of the Victorian era, bringing an organic life to jewellery.
A key characteristic of this era is the focus on expert techniques and detailed enamelwork. Look for sweeping floral gallery details and intricate filigree in these rings.
Jewelry from this era also emphasizes the setting over the gemstone itself. This can lead to more elaborate luxurious rings, especially when it comes to Art Deco styles.
Mid-Century Modern
After World War II, a newfound optimism in man's potential to leap into the future carried over into all aspects of life, including fashion and jewelry design. Linear styles gave way to voluptuous curves and a fascination with bold statements of shape.
A glamorous era of cocktail jewelry also emerged, perfect for dressing up formal occasions and making a statement. Consider adding a bold gemstone cocktail ring or a pair of chandelier earrings to your wardrobe for a touch of retro glam.
A true vintage gem, this ring features a large emerald-cut center stone flanked by baguette diamonds on a thin band for a stunning and unique appearance. It's the kind of ring that can be worn for years to come without ever going out of style.
Post-World War II
As the world sighed relief when WWII ended, jewelry trends reflected the optimism of a generation. Large novelty pieces with playful motifs became popular.
Art Nouveau rings emphasized floral and feminine motifs. Asymmetry and filigree work also influenced this style.
Many couples choose antique rings for their historical charm and elegance. Others are drawn to their ability to tell a unique story through the gemstones and designs they embody. Other reasons include their ability to reduce demand for newly mined metals and gems, helping to conserve natural resources. Still, some of the most compelling reasons for choosing an antique ring are the emotional connection and sentimental value they evoke.