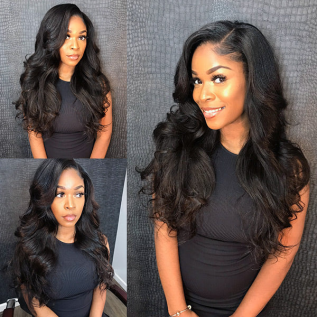 Preface
There are many options if you want to improve your appearance and change your look. There are practically no limitations when it comes to makeup, clothing, jewelry, and hairstyles. Your hair can completely change the perception of people for you, and Luvme Hair's U Part wigs are changing the face of beauty as we know it. In addition to a natural appearance, these wigs have super quality: breathability. We will discuss the idea of U-Part wigs and why Luvme Hair's U-Part wigs can be your best beauty investment.
Table of Contents
Understanding U Part Wigs
Breathable
Customization and Versatility
Quality and Durability
Affordability and Accessibility
A Range of Styles and Lengths
Ease of Application
Confidence and Empowerment
Final Words!
Understanding U Part Wigs
U Part wigs got their name from the U-shaped opening at the top, which lets you merge your hair with the wig to give the impression of a seamless, natural hairline. A U Part wig essentially offers the best of both worlds: the versatility and comfort of a wig while letting you leave out a section of your hair. Conventional wigs can be challenging to obtain a natural and realistic appearance.
Breathable
The breathability of U Part wigs is what distinguishes them. Traditional wigs occasionally tend to be bulky and uncomfortable, which can cause problems like sweating and discomfort. U Part wigs have a cap design that is crafted to enable air to flow freely. This breathable feature offers the following benefits:
1. Comfort: It is pleasant to wear the wig cap for extended periods since air can flow through it. You won't feel the discomfort that traditions can cause, whether you wear your U Part wig all day or just for a special occasion.
2. Healthier Scalp: Maintaining a healthy scalp requires proper air circulation. It stops the accumulation of sweat and moisture, which can cause problems with the scalp. Your scalp can breathe with a Luvme Hair U Part wig, lowering your risk of itching and dandruff.
3. Reduced Odor: The enhanced air circulation assists in maintaining the freshness of your wig. Traditional wigs may occasionally retain odors caused by sweating and hair products, but with a U-Part wig, the probability of facing this problem is reduced.
Customization and Versatility
Luvme Hair's U Part wigs stand out for their ability to be customized and their versatility. They let you combine your hair with the wig, allowing you to style it like your own. Whether you prefer a down hairstyle, a ponytail, or an updo, or want to experiment with various looks, U Part wigs give you the freedom to do it all. This adaptability makes it easy to switch up your appearance for different occasions and moods.
Quality and Durability
When you're investing in beauty products, don't forget to think about how good they are and how long they'll last. Luvme Hair's U Part wigs excel in quality. They're created from 100% genuine human hair, giving you not only a natural look but also a longer-lasting option compared to synthetics. Using hair means you can style these wigs with heated tools just like you do with your hair, opening up a world of styling options.
Affordability and Accessibility
Affordability is an important factor when buying any beauty product, and Luvme Hair recognizes the need to accommodate various budgets. They offer U Part wigs at different price ranges, ensuring accessibility for a huge audience. Whether you're an experienced wig enthusiast or a newcomer to the world of wigs, you can discover a Luvme Hair U Part wig that suits your financial plan without sacrificing quality.
A Range of Styles and Lengths
In the beauty world, variety is key, Luvme Hair's U Part wigs present a wide selection of styles and lengths. Whether you're in the mood for a chic short bob, luxurious long flowing locks, or something in between, you'll discover an option that matches your unique style. The ability to transition between various looks without a long-term commitment is a compelling feature of U Part wigs, and Luvme Hair's assortment undeniably fulfills this promise.
Ease of Application
An attractive feature of Luvme Hair's U Part wigs is their user-friendly application. You don't have to be a professional hairdresser to don these wigs. Just place the U-shaped opening at the crown of your head and secure it. Smoothly merge your hair with the wig, and you're all set to step out. This effortless application method is perfect for people with hectic routines who want a stunning appearance without complications.
Confidence and Empowerment
Confidence and empowerment go hand in hand. Feeling good about your appearance is a well-known confidence booster. The remarkable impact of a beautiful hairstyle shouldn't be overlooked. Luvme Hair's U Part wigs give you confidence and elevate your self-esteem. Whether you want to experiment with new hair colors, textures, or styles, these wigs give you the tools to express yourself and feel fantastic about your look.
Final Words!
In the world of beauty and fashion, Luvme Hair's U Part breathable wigs are gaining attention as a promising beauty investment. They offer breathability, versatility, quality, affordability, and ease of use, making them a practical and accessible choice. Whether you're a new wig wearer or a professional, these wigs suit all. Luvme Hair's commitment to providing top-quality products is evident in its various styles and lengths, ensuring you'll find the perfect U-Part wig to complement your unique style.
When you choose a Luvme Hair U Part wig, you're not just buying a hairpiece; you're investing in your style and overall well-being. Beauty is a personal journey, and these wigs provide the means to express yourself and embrace your true beauty. Especially during their enticing black friday wig deals, considering Luvme Hair's U Part wigs can be a wise beauty investment. So, why wait? Unlock the world of endless possibilities for your hair and style, and embark on a journey of self-expression and confidence.