Minimalism is taking the decor world by storm with its elegant simplicity. By embracing the 'less is more' design philosophy, you can create a clean and refined look for your car's interior too. Small yet impactful dashboard idols are the key to minimalist style. Read on to master the art of curating a stylish, distraction-free driving space.
Choosing the Right Small Idols
In the world of minimalist dashboard decor, every small idol serves a purpose. Let's explore how to make these choices count.
Identifying Meaningful Symbols
Instead of cluttering your dashboard with random trinkets, opt for a few symbolic idols that hold deeper meaning. For example:
Sacred symbols like the om, swastika, Trinity knots, or yin-yang reflect spirituality or cultural heritage.
A miniature replica of your first car model or dream car represents motoring passions.
A custom nameplate with initials or a nickname adds a personal signature touch.
Even simple objects like a seashell, feather, or crystal point become imbued with meaning in a minimalist context. Let your idols tell a story.
Quality Over Quantity
Resist the urge to fill up every inch. A thoughtfully curated selection of 2-3 exquisite, high-quality car dashboard idols has far more elegance than a dashboard bursting with trinkets. Savour each idol by giving it room to make an impact.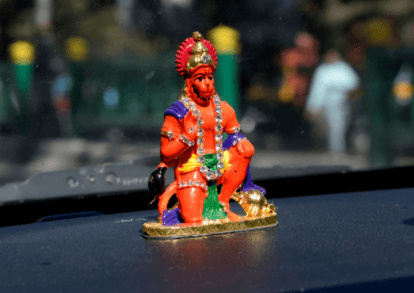 Studies show cluttered spaces increase anxiety and overwhelm. Embrace openness – a minimalist dashboard promotes a calmer driving experience.
Material Matters
For longevity and aesthetic appeal, choose small idols made from:
Polished metals like brass, copper or silver that develop a dignified patina.
Natural stones like marble, agate, or granite that add organic texture.
Lacquered wood that withstands sun damage while enhancing natural grain beauty.
Ceramics with translucent glazed finishes for an eye-catching sheen.
Durable, high-quality materials ensure your small idols retain their sophisticated minimalist edge for miles to come.
Placement and Arrangement Techniques
With your carefully chosen small idols in hand, it's time to master the art of placement and arrangement. Discover how to achieve maximum visual impact with minimalist elegance.
Strategic Placement
Maintain adequate visibility by placing small idols low on the dashboard edges, neatly lining them up. The passenger side edge is ideal.
Alternatively, cluster 2-3 mini idols in an asymmetrical arrangement on the front passenger side, leaving breathing room around them.
Wherever you place them, check sight lines from the driver's seat. Adjust until the idols are visible delights, not distractions.
Creating Visual Harmony
Though minimalist, aim for balance. Play with symmetry – if placing a mini idol on one side, add its twin on the other.
Vary colour and texture between pairs for appealing contrast – a gleaming silver Ganesh with a black granite Lakshmi, for instance.
Or coordinate colours for a soothing sensibility – place cool blue and green toned idols together. Contrast enhances, while coordination calms.
Embracing Negative Space
Negative space is the area around objects. Generous negative space helps small idols make an impact by letting them stand out elegantly.
Resist cramming – keep at least 2 inches of open space around standalone idols. For clusters, leave a 1 inch gap between pieces.
Embrace this openness for a light and airy minimalist aesthetic.
Securing Small Idols
Now that your small idols are perfectly placed, let's dive into the critical aspect of securing them for a harmonious and worry-free driving experience.
Adhesive Solutions
For heavy stability with easy removal, secure mini idols with:
Removable adhesive putty like Fun-Tak. It won't damage your dashboard.
Adhesive silicone dots designed for car dashboards – these grip perfectly.
Command adhesive strips rated for automotive use – easily replaceable.
Only use adhesives formulated not to stain or damage car interiors to safely secure your precious idols.
Alternative Fastening Methods
For removable stability without adhesives, consider:
Mini rubber-lined clamps that gently secure idols to the dashboard edge.
Metal or adhesive-backed hooks installed safely out of the driver's line of sight to hang light idols.
Sturdy mini easel stands with rubber feet that hold up idols securely.
Minimising Vibration
To prevent idols from shifting during rides, ensure bases have rubber pads or felt bottoms to increase friction.
Avoid hanging idols that may sway – opt for stable, low-profile mounting methods only.
Check for vibration during test drives. Add slip-resistant pads beneath idols or readjust if needed. Stability is key.
FAQs (Frequently Asked Questions)
Before we conclude, let's address some of the questions that often arise when striving for minimalist dashboard perfection. We're here to provide clarity on these frequently asked questions.
Can small idols really make a significant impact on my dashboard?
Though diminutive in size, strategically placed high-quality mini idols can uplift your interior with an impressive touch of class. Studies show a harmonious minimalist environment also has measurable positive effects on driver focus and passenger sentiment. With mindful placement of just a few meaningful idols, you can create a soothing oasis that complements your driving experience beautifully.
How do I ensure my small idols won't obstruct my view while driving?
Safety first. Rigorously check sight lines from the driver's seat before securing any mini idols. Position them low on dashboard edges and far sides. Avoid hanging idols or unstable bases that may shift and cause distraction. Take test drives and adjust placements until your view and comfort are completely unobstructed. It's easy to create a minimalist style that inspires, not impairs.
Are there specific small idols suitable for particular car interior styles?
Absolutely. For a classic leather interior, opt for miniatures like a vintage car or retro road sign. In modern interiors, sleek shapes like geodes or fluid abstract sculptures work beautifully. For bohemian style, a tiny crystal, feather, or flower convey free-spirited harmony. Mini idols can complement any aesthetic when chosen with your overall interior design and personality in mind.
Conclusion
True minimalism transcends just being sparse. It is a mindset of embracing elegance and purpose in all you display. By intentionally selecting and securely placing just a few meaningful small idols, you can craft a soothing minimalist sanctuary in your car's interior. Let this space inspire focus and joy wherever the road leads you. With small idols and grand vision, the possibilities for stylish self-expression are truly endless